While there may be some destinations that are more safe than others, the world is not as scary as some might think. With a positive attitude and general street smarts, there are plenty of places in the world where you can feel totally safe and secure on your own.
Here are 10 of the safest destinations for solo female travelers!
Iceland
Icelandic Horses
Even though Iceland's nickname of "The Land of Fire & Ice" sounds intimidating, solo travel is totally comfortable and easy here. The city of Reykjavik is famous for its music scene and nightlife, so you'll have no problem meeting locals and fellow travelers. There are countless reasons to visit Iceland but it's her natural beauty that steals the show.
Join a tour and snorkel the Silfra Fissure or hike a glacier. And don't miss a bath at the beautiful Blue Lagoon!
Scandinavia
Stockholm, Sweden
The countries of Denmark, Norway and Sweden (commonly referred to as Scandinavia) are filled with amazing architecture and beautiful sights. Forget about Disneyland, Norway and Denmark have even been ranked as the #1 and #2 happiest places in the world!
New Zealand
Auckland, New Zealand
Adventure awaits in the glaciers, beaches and fiords of New Zealand. In New Zealand, you'll come across some of the most beautiful landscapes in the world. If you don't believe me, just ask fellow female travel blogger, Young Adventuress.
She loved traveling solo here SO much she made it her new home!
Thailand
Ko Phi Phi Don, Thailand
Southeast Asia will never be lacking in awesome things to do. Going to Thailand on your own will give you so many opportunities to explore beautiful beaches, enjoy delicious street food and take in the unbelievable scenery of the mainland. It's a great destination for both budget and luxury travelers, with inexpensive accommodation as well as 5-star resorts.
Canada
Banff National Park (image source)
Nearly everywhere you go in Canada, you'll be surrounded by multiculturalism and some of the most breathtaking landscapes your eyes have ever seen. Canadians have a reputation for being the friendliest people in the world and, while traveling alone here, you'll see why!
Costa Rica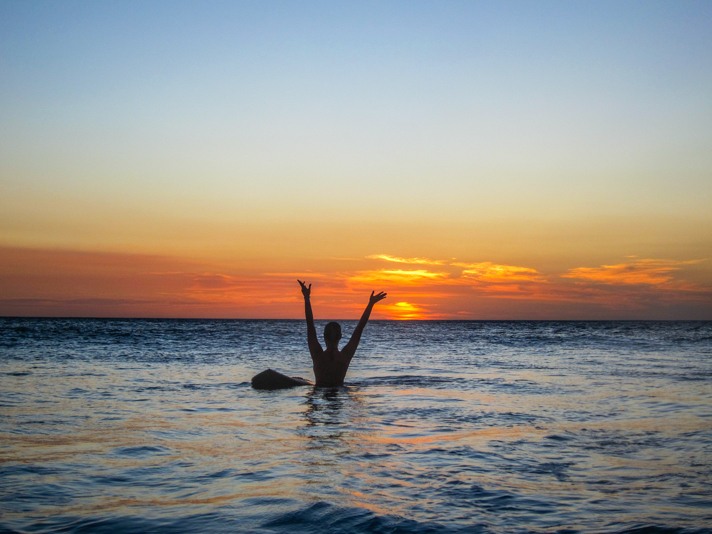 Surfing in Nosara, Costa Rica
The sandy beaches and rainforests of Costa Rica are the perfect scenery for a solo trip in the sun. Whether you're looking for a surf safari down the Nicoya Peninsula or a yoga retreat in Nosara, there's something for every type of solo female traveler.
Ireland
Grabbing a Guinness in Dublin
Ireland may not be known for great weather, but the Emerald Isle is a place of happiness and beer. Cozy up in a local pub, catch a football game or head out to the countryside for an incredible Irish experience.
Bali
Ubud, Bali
Temples, yoga, relaxing beaches and inexpensive food & accommodation are just a few reasons whyBali is the ultimate solo female travel destination. With a great backpacking culture for young people, budget travelers will always find someone to hang out with. And with all those beautiful beaches, you bet there are some incredible resorts for a little bit of luxe.
You'll be so busy relaxing and soaking up the Balinese culture, you will forget you ever worried about going alone.
Amsterdam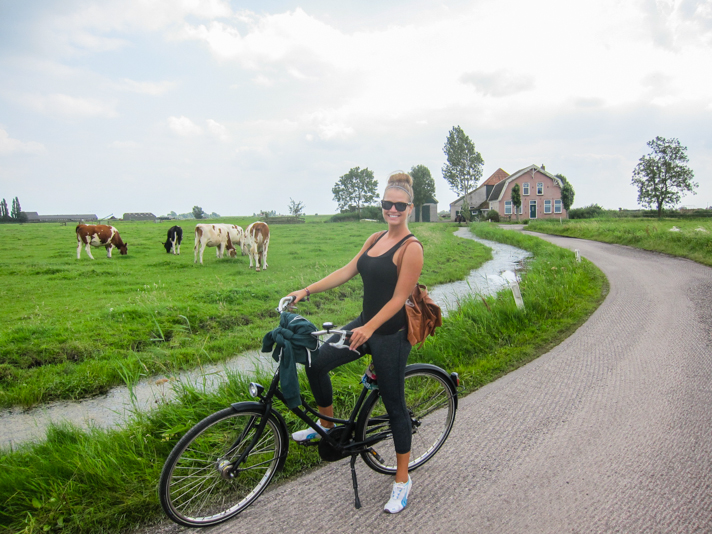 Amsterdam Noord, The Netherlands
Known around the world for its liberal lifestyle and super chilled out vibe, Amsterdam is an amazing place to hang out on your own. The canals are yours to explore as you discover the unique culture and nightlife of the city. Rent a bike and run into (not literally of course) some friendly and laid back Dutch locals.
A Cruise
Mykonos, Greece
While it's not a specific destination, a cruise in any part of the world is a great travel experience for solo female travelers. Enjoy the convenience of an itinerary and secure accommodation. Unpack once and arrive at multiple destinations without having to book flights or accommodation.
Social Share